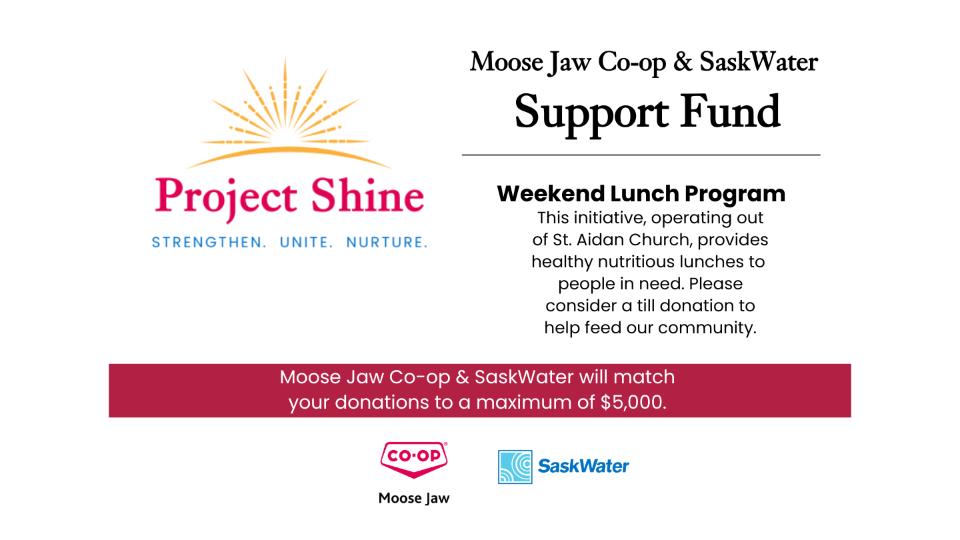 Project Shine
July 24, 2023
Let's shine bright and make a difference!
UPDATE (September 7, 2023): The Project Shine till campaign is now complete. Thanks to generous donations from our members/customers, a total of $7,895.69 is being donated to the Weekend Lunch Program operating out of St. Aidan Anglican Church.
$2,895.69 till donations

Matching funds:
$2,500.00 Moose Jaw Co-op
$2,500.00 SaskWater
Thank you for all your support! And thank you to SaskWater for partnering with us on the Project Shine campaign.
August 1, 2023

Moose Jaw Co-op and SaskWater are thrilled to announce the launch of a new campaign, "Project Shine: Strengthen, Unite, Nurture," aimed at supporting our local community.
As a company deeply committed to fostering a strong and caring community, Moose Jaw Co-op is excited to invite you to join us in making a positive impact this August as we support Project Shine's first initiative, a month-long till campaign at our Food Store to support the Weekend Lunch Program. Throughout the entire month of August, when you shop at Moose Jaw Co-op Food Store, you will have the opportunity to make a difference simply by making a small donation at the till. Every dollar counts, and together, we can shine brighter than ever before!
Moose Jaw Co-op and SaskWater are pleased to each provide matching contributions up to $2,500 for this initiative.
At Moose Jaw Co-op, we believe that everyone deserves access to nourishing meals. Unfortunately, not everyone has this privilege, and that's where the Weekend Lunch Program comes in. This vital program provides healthy sandwiches to individuals in need every Saturday and Sunday out of St. Aidan Church, ensuring they receive proper sustenance and a sense of support during challenging times.
The Weekend Lunch Program started three years ago when the organizations involved in food security in Moose Jaw realized that, while weekdays were covered with various organizations providing free meals, on weekends there were no free meals offered by any of the usual organizations. That's when folks at St. Aidan Anglican Church offered to step up and provide volunteers to make and distribute sandwiches and fruit on Saturdays and Sundays.
By participating in the Project Shine till campaign, you can contribute to ensuring that no one goes hungry over the weekends. Even the smallest donation can make a significant impact and bring hope to individuals and families facing food insecurity.
We are extremely pleased to partner with SaskWater on Project Shine to help support the Weekend Lunch Program. We invite all our valued members and customers to join us in this effort and help us make a difference in our community. It's heartwarming to see our community come together to make a positive impact on the lives of those in need.
We understand that everyone's circumstances are different, but we believe that generosity has no boundaries. Whether you can spare a few dollars or a little extra change, your contribution will go a long way in brightening the lives of those less fortunate in our community.
We will proudly display the names of our members and customers who donate to Project Shine with a special recognition symbol in our Food Store (voluntary, of course). We want to acknowledge your compassion and inspire others to join this initiative.
So, mark your calendars! Let's come together and show our support for Project Shine and the Weekend Lunch Program throughout August 2023. Together, we can make a positive impact, one sandwich at a time.
Thank you for being a part of our Moose Jaw Co-op family and for your commitment to building a stronger, more caring community.
Discover more: