2023 Fuel Good Day Recipients
Actions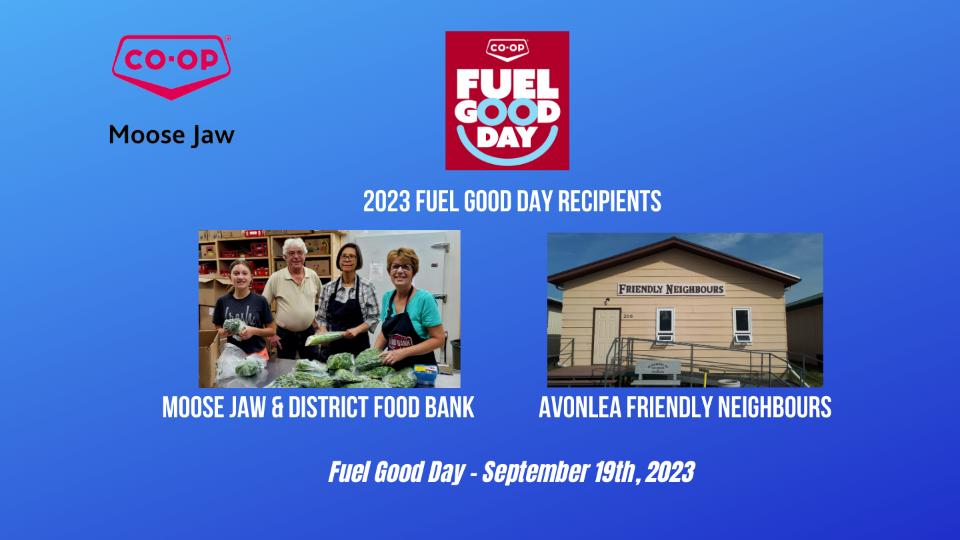 2023 Fuel Good Day Recipients
August 1, 2023
Moose Jaw Co-op Fuel Good Day 2023
Fuel Good Day focuses on Moose Jaw Co-op's local investment in the communities in which we serve. On Fuel Good Day, 10 cents from every litre of fuel pumped are donated to local charities or non-profit groups that are selected as recipients. This is a fun and exciting day in our community!
Fuel Good Day this year is September 19, 2023.
We thank all the local charitable and non-profit organizations that applied this year to be a recipient of Fuel Good Day proceeds.
We are pleased to announce the 2023 Fuel Good Day Recipients:
Moose Jaw & District Food Bank:
The Moose Jaw & District Food Bank's mission is to reduce hunger within our community by redistributing nutritious food, free to those in need. Food is collected through various means such as food drives and donations. Founded in 1984, the Moose Jaw & District Food Bank currently helps approximately 1,600 people. Each month they hand out over 600 food hampers to households. Nearly half the people receiving help from the Food Bank are children.
The Food Bank plans to use proceeds from Fuel Good Day to purchase much-needed perishable food items for inclusion in the food hampers. This will help ensure that many families and single households will not have to go without fresh food items. The Food Bank would also like to include fresh fruit, veggies, yogurt, cheese strings, etc. in the Mighty Munchie program for school-aged children. The Food Bank needs financial help to attain this dream.
Avonlea Friendly Neighbours:
Avonlea Friendly Neighbours caters to the mental and physical well-being of residents aged 55 plus in the Avonlea community. Some of the activities the organization hosts are coffee spot, chair yoga, foot care clinic, wellness programs, crafts, presentations, potluck suppers, and card playing. This important community venue had a fire that caused significant damage and led to the closure of the Drop In Centre.
Proceeds from Fuel Good Day will help Avonlea Friendly Neighbours to rebuild their Centre and continue to provide a community space for gathering, socializing, and learning.
Discover more: